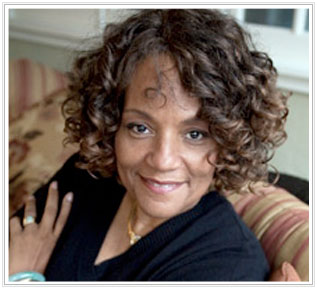 ROMELL FOSTER-OWENS has been in the business of producing, writing and directing high quality, award-winning television series, made for TV movies, documentaries, and independent feature films for more than 20 years. Ms. Foster-Owens is a graduate of the prestigious American Film Institute where she majored in Film Directing and San Diego State University where she majored in Theatre Arts and Television Production and is the President of Jowharah Films.



In 2009 Ms. Foster-Owens was selected to participate in the Producers Guild of America's Diversity Workshop. Two films Ms. Foster-Owens produced, NATIVE NEW YORKER and PINS AND NEEDLES have the rare distinction of being accepted as Official Selections of the 2008 Cannes Film Festival.
In 2008 Ms. Foster-Owens produced the award winning films STITCHES, SEEMS LIKE YESTERDAY and the documentary, HOLLYWOOD AT IT'S BEST. The Gang Alternatives Program PSA, which she produced for Women In Film, won the 2008 Platinum AURORA Award for "Best In Show" and a Bronze ADDY Award. In 2004 Ms. Foster-Owens was selected as a producer to participate in Robert De Niro's Tribeca Film Festival's esteemed Tribeca All Access Program.
Ms. Foster-Owens has produced and written more than 200 hours of television programming and five television series, including the EMMY AWARD winning television series TEEN SCENE and MOTORSPORTS MANIA. She is a Creator and Executive Producer of the Reality TV series, ALAKAZIA: THE ROBIN HOOD OF FASHION in association with ShedMedia and Seahorse Entertainment LLC, Producer and Writer of both the 2008 Hollywood Stuntwomen's Awards and the 2008 Women's International Film & Television Showcase Awards (TheWIFTS) which honored the producer of TERMINATOR, Gale Anne Hurd among others.
As a filmmaker, Ms. Foster-Owens has won numerous awards, which include an NAACP IMAGE AWARD for Outstanding Feature Film Direction for her direction of the feature film, THE THREE MUSCATELS as well as the Black Filmmaker's HALL OF FAME AWARD for Best Independent Film for MORE THAN A GAME, which she wrote, produced and directed and the National Council of Christians and Jews HUMANITARIAN AWARD for RIGHTS OF PASSAGE: An African American Female Experience, which she Executive Produced. Ms. Foster-Owens is currently developing a Slate for Jowharah Films which includes the feature films, FOREVER YOURS, AVE' BLUE, ONE MILLIONTH MAN, NATIVES and reality TV shows RALLYE STAR and UNDERGROUND DIVAS, plus the screenplay adaptations of the award winning novels, THE JUNGLE WARRIORS and COLORED WAITING ROOM which she will produce and direct.
Ms. Foster-Owens is a member of the Gang Alternatives Program Advisory Board, The Women's International Film & Television Showcase Committee, a founding Board Member of the Diamond In The Raw Foundation, a former Board Member of the Center for Advance Film Studies at The American Film Institute and is an active member of Women In Film and the Alliance of Women Directors.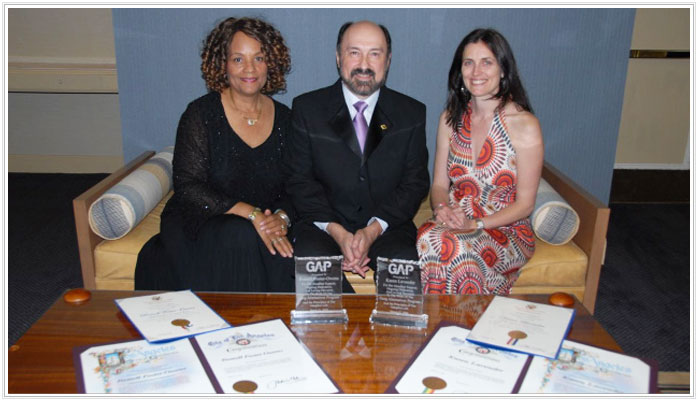 Romell Foster-Owens, Recipient of Mitch Maricich Award
Douglas L. Semark, Executive Director Gang Alternatives Program
Karen Lavender, Recipient of Mitch Maricich Award
ROMELL FOSTER-OWENS on


Host Name: IndieFilmmakersTalk
Show Name: Book Adaptations to the Big Screen.
Length: 2 hrs
Description: Patricia Pope, award winning author of the novel, COLORED WAITING ROOM discusses the process of making her book into a major motion picture along with award winning filmmaker, Romell Foster-Owens.
Click Here to Listen to Romell Foster-Owens on Blog Talk Radio.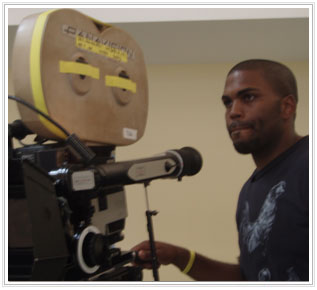 BRIGMAN FOSTER-OWENS
Cinematographer / Director of Photography
 
Brigman Foster-Owens received his Masters of Fine Arts in Cinematography from the prestigious AMERICAN FILM INSTITUTE in Hollywood, California and his Bachelor of Science degree in Photography and Graphic Design from FLORIDA A&M UNIVERSITY. Brigman was born and raised in Southern California and has the rare distinction of being a second-generation filmmaker.




 
Considered one of Hollywood's most talented up and coming Cinematographers, in 2009 Brigman served as the Cinematographer and Camera Operator of the feature film, GODBOY which he shot using the Red Camera. Brigman will serve as the Cinematographer for THE JUNGLE WARRIORS, a major motion picture about the Vietnam War that will be shot on 35 MM in Hawaii the fall of 2009.
 
Other credits for Mr. Foster-Owens as a Cinematographer and Camera Operator include THE CLUB starring Tommy Ford (Martin Lawrence TV Series) that premiered at the 2008 PAN AFRICAN FILM FESTIVAL. In 2007 Brigman was the Cinematographer, Writer, Director and Camera Operator of the award winning music video PINS & NEEDLES starring Sammy Allen and SEVEN STITCHES. Brigman shot on 35 MM and chose to give the music video an innovative look and feel by using Cross Processing. ALL ACCESS MAGAZINE nominated PINS & NEEDLES as BEST HARD ROCK MUSIC VIDEO in 2007 and in 2008 the Music Video was accepted into the world renowned CANNES FILM FESTIVAL.
 
Upon graduating from FLORIDA A&M UNIVERSITY Brigman was accepted at BROOKS INSTITUE of PHOTOGRAPHY. Within a period of one year, Brigman's film credits as a Director of Photography and Camera Operator included eight short films and two music videos shot on HD Video and 16 MM film.
 
In 2005 Brigman was accepted as a Cinematography Fellow at the AMERICAN FILM INSTITUTE. While at the American Film Institute, Brigman crewed on more than 60 short films in various capacities from Camera Operator to Best Boy. In addition Brigman served as the Cinematographer and Operated Camera on four AFI films including his critically acclaimed 35 MM Thesis film, THREE VERSES.
 
In 2003 Brigman's critically acclaimed book of Black & White photographs titled, "OUTSIDE LOOKING IN" was published. In 2002 Brigman won the "By Line Blitz Award" for his outstanding photographic contributions (with over a hundred photographs published) as the Photo Editor of the FAMUAN Newspaper.
 
Brigman was versed in the art of cinematic story telling under the tutelage of award winning Cinematographers Bill Dill, ASC, Stephen Lighthill, ASC and his mentor of four years, award winning Cinematographer, John Simmons, ASC.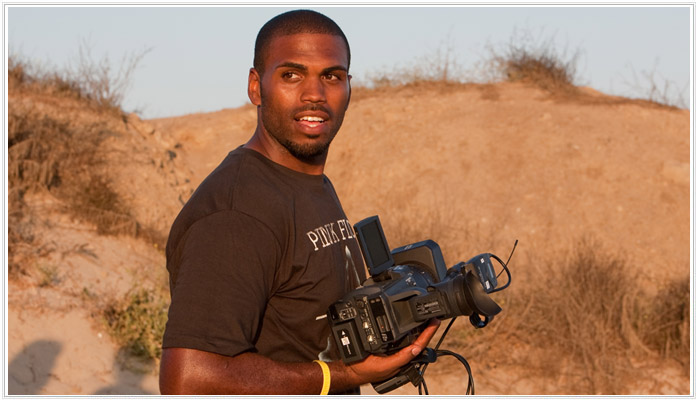 NATASHA FOSTER-OWENS
JOWHARAH FILM S FAMILY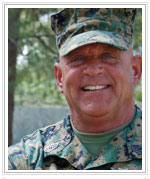 Matt Sigloch: Military Technical Advisor
Matt Sigloch Website
Matt Sigloch is a leading Military-Tactical Advisor with hundreds of Feature Films and Television Shows to his credit. Matt brought real world boots-on-the-ground experience to projects like JAG, THRESHOLD, CRIMINAL MINDS, JERICHO, and COLD CASE from the Evacuation of Saigon (Viet Nam) and Kuwait (Desert Shield/Storm). Knowledge acquired while serving as the Marine One Crew Chief during the Reagan Administration helped him bring the White House to life for such shows as NCIS, and Oliver Stone's "W". Visit Matt Sigloch's IMDB site to see several hundred additional feature film and television credits for Matt Sigloch.
Matt Sigloch was a Military Technical Advisor on The Jungle Warriors.